WELCOME TO HOOPER'S YACHTS
HAPPY NEW YEAR
WE THANK YOU FOR YOUR 2020 BUSINESS

WE ARE OPEN FOR BUSINESS. YOU CAN BROWSE OUR 5 ACRE BOATYARD OR WE CAN MEET YOU ANYWHERE ELSE WE HAVE BOATS LISTED, LIKE BAYFIELD, ETC. WE TAKE SOCIAL DISTANCING SERIOUSLY.
OUR STORE HAS PRODUCT AND WE ARE TAKING ON SERVICE WORK TOO.
Boat sales have been fantastic as it's no wonder people wanted to get out on the water more than ever before. It was a great summer this last season for families who enjoyed the outdoors to escape from the throngs of COVID. We get new listings weekly. If you want to find a boat, check out our web site and if you want to sell your boat, contact us. There are slips available in many marinas and we can help you find one. I hope you enjoyed a boat on the water. If you are looking to this coming season, give us a call. We are here for you. We will be showing boats all winter long.
We are Tohatsu Outboard dealers. Check out the Tohatsu page for details and updates. Orders are arriving and stock is building. Contact us to assure your new outboard is ready before spring.
INTRODUCING TWO NEW J/BOATS FOR 2021
THE NEW J/9 AND J/45
Read Below:
The J/9 is the first in a new series of modern J daysailers dedicated to making sailing easier, more comfortable, and more inclusive, at a time when escaping to the water and enjoying shared family adventure has never been more important.

Is This The Most Comfortable J/Boat Cockpit Ever? YES! In response to the growing need among performance sailors for a more comfortable, simpler and easy-to-own daysailer, J/ Boats announces an exciting NEW 28 footer (the "J/9") for 2021 with perhaps the most comfortable cockpit and easiest to handle sailplan in this size range. J/9's deep, secure cockpit has four great corner seats to nestle into and enjoy the day. With friends and family aboard, everyone can find the perfect place to relax. And access aboard has never been easier. A swim platform behind the cockpit allows walk-through boarding, and on those downwind sails home, you can cool off by dragging your feet in the water.
The boat width is 8'6" for trailering without a permit and will be available with either a diesel sail drive or fitted for an outboard. A deep and shoal keel will be offered.
The hull mold is completed and #1 hull is scheduled to start production in January with a target launch date early April with next available hull slots in October.
For more information, pricing, or to get your name on a hull, please contact Hooper's Yachts. At this writing, there are 15 orders within the system and counting. The next J/9 is for October completion. Base price is $109,900
Expand your Bucket List with the NEW J/45 Offshore Sailing Yacht


Introducing an exciting, new 45' offshore sailing yacht that may change all of your sailing plans. Leading-edge hull design meets refined interior design to raise the bar on cruising comfort and performance like no J before it.



Effortless, Enjoyable Sailing


The J/45 is a true sailing yacht, designed and built for the sea by life-long bluewater sailors. The J/Boats and J/Composites teams have collaborated to create a special design for discerning sailors seeking an exceptional sailing experience.

The J/45's feather-light touch on the helm and easy reach of the sail controls delivers pure enjoyment as you sail in perfect balance across the ocean waves.

The J/45 can be sailed solo, cruised by 2-3 couples or large family, and pleasure sailed or raced with room for the whole crew. This is an investment grade yacht that won't require a professional crew to sail, handle or maintain.





Comfort at Sea and at Anchor


The J/45's sea-kindly motion and comfort is built-in. The combination of advanced composite construction, an easily-driven hull shape, and low center-of-gravity, results in the stability and smooth sailing motion normally reserved for larger yachts. Quality matters and the J/45 makes no compromise when it comes to critical components like the composite materials, keel, spars, winches and deck hardware, that all contribute to a comfortable motion while sailing.

Comfort at sea is also a function of how much "effort" is exerted by the crew. With the J/45, the same main and jib combination that performs in 6 knots of wind can be "de-powered" to perform in 20 knots - no sail change needed. This cuts crew work in half compared to constant sail-changing needed on heavier cruisers. The J/45's exceptional light air sailing capability also means less engine time and a longer range between stops.



The same secure and protected cockpit at sea then transforms into the social center while at anchor - comfortable seats with back rests, large cockpit table, and easy swimming access off the transom. A large companionway dodger connected to an aft bimini provides protection from the elements.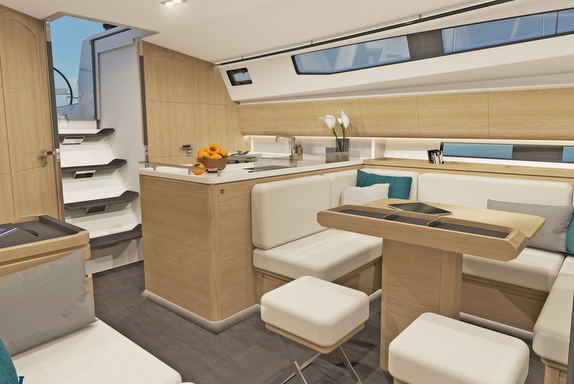 Refined Interior Design and Living Space


The J/45 breaks new ground for J/Boats for interior design and comfort thanks to French interior designer Isabelle Racoupeau. Working in close collaboration with the J/Composites Shipyard, Racoupeau has brought her vast experience in cruising yacht design to create a beautifully finished and elegant interior befitting the newest cruising J.



Owners may choose from a two cabin/two head or a three cabin/two head interior arrangement. One can further personalize the interior finish with three choices of wood (white oak, teak, or walnut) and extensive upholstery options. A wide range of onboard systems are available (air conditioning, heat, sound system, etc) to enhance cruising comfort.



Design Pedigree


Great boats don't happen overnight. They evolve from the joint experiences of designer, builder and owners to become state-of-the-art. The J/45 is such a yacht .... building upon the experience of 15,000+ J's built since 1977 that have taken their owners to the far reaches of the planet on numerous trans-oceanic and around-the-world passages.

J owners are passionate about their boats! And, J cruising designs are among the most sought-after for their unique combination of sailing comfort and performance. The J/45 is the culmination of three years of collaborative work between the design, engineering and build teams at J/Boats and J/Composites to create a unique and compelling yacht for today's sailor.





Built Offshore Tough


The J/45 is built strong by J/Composites (in the Vendee region of France) with the latest advanced composite resin infusion technology – twice as strong as hand-laid fiberglass boats. J/Composites was the first European-based shipyard to adopt the patented SCRIMP resin infusion system in the mid 90's and is now one of the most experienced sailboat builders in the world for sandwich/infusion construction.

Anchoring the internal structure of the J/45 hull is an extensive composite grid and series of structural composite bulkheads that are bonded to the hull and deck. The J/45's custom-engineered structure provides exceptional stiffness and optimal strength-to-weight, without sacrificing the comfort of the living spaces below.



Expand your Bucket List


Is there an epic cruise you've dreamed of, or a signature racing event you'd give anything to enter? The J/45 can be sailed on her own bottom to almost anywhere in the world. Imagine setting sail from the Canary Islands in November on the ARC Cruising Rally to the Caribbean. Then, cruise the islands with the family over the holidays. Invite your sailing mates to join you in February for the Rolex Caribbean 600. Then, set off on another leisurely cruise. Unplug for weeks at a time or stay fully connected in "remote working" mode. Discover a healthier, happier life/work balance all while exploring the world and checking-off your growing bucket list. For pricing and availability, please contact us. At this writing December 2021 is the next available slot just in time to sail the islands next winter.

For more information and technical specifications about the NEW J/45 offshore sailing yacht- please click here.

J/70
20 kts on a J/70: (Click For Video)
There are nearly 1,500 J/70s sailing in over 25 countries - nothing short of remarkable. Call for price and availability. Right now they are being produced on an as-needed basis from J/Composites. The next container arrives to Rhode Island mid January and there is one boat available at $49,900 with a kelp-cutter keel and a Triad Trailer. A brake package is included at no charge. Next availability is April.
J/99

J/99- the seriously fast, comfortable, offshore shorthanded speedster
Making her Annapolis debut, the J/99 is the newest addition to the J/Sport range, combining headroom and comfortable interior accommodation with the tiller-driven responsiveness of a sport boat. The sail and deck plan are optimized for easy handling with fewer crew, and incorporate the latest developments from the award-winning J/121 and the new Offshore Sailing World champion J/112E. The interior features twin aft cabins, a proper sit-down forward facing nav station, an L-shaped galley, and a private forward head with sail locker. Plus, the J/99 has been nominated for European Yacht of the Year Award. The J/99 is on fire with multiple awards and production is steaming along at one boat per week. Call for availability. The next hull (#75) will be available in June.
Base: $187,900
The first J/99 arrives in the Swiss Alps
HOOPER'S YACHTS IS ONE OF THE OLDEST STANDING SAILBOAT DEALERSHIPS IN OUR AREA, BUT WE ALSO SELL INTERESTING POWERBOATS
"When You Buy A Boat, You Buy A Way Of Life"
OUR EXPERIENCE CAN HELP YOU IN SO MANY WAYS WHEN SELLING OR BUYING A BOAT.
Tip on how to save fuel costs: "BUY A SAILBOAT !"
J/121 Wins Boat of the Year Award
Sailing World Magazine just posted the BOTY winners on www.sailingworld.com. Simply put, the J/121 is a bucket-list boat, designed to tackle adventure-style races where it's more about the experience than winning. Jeff Johnstone observes that signature races were attracting record fleets. These are the short-handed, adventure style races. J/Boats goal was to cut the crew in half on a 40-foot boat built to be a point to point distance boat, but still pass the beer can and day sail set too. The concept was to build a boat with a crew of 5 with no need for rail meat. The 800 lb. water ballast, controlled from the cockpit takes care of that. In 15-20 knots the boat is really fast and stable with or without the water ballast. The rudder never loses her grip. She's rock solid in a breeze - a great boat all around. She has a 5-sail inventory, most of which are on furlers. The J/121 isn't configured for cruising, but will provide comfort for distant racing and the V-berth option increased sleeping capacity. The berths are designed for passage-making, there is synthetic flooring, molded furniture and mahogany trim making it homey while taking on the day to day race abuse. The cockpit ergonomics are excellent and the winches are well-positioned. Headsails are trimmed with hybrid floating jib leads that allow in-hauling or barber-hauling. You can tweak all day long on a long offshore leg. There are already 4 J/121's entered in the Bermuda Race this year including one in the double-handed division. On the heels of a victory in the 2019 Transpac Race, 2 west coats boats are gearing up for the 2020 offshore circuit. The next available production slot is for February 2022 completion. www.jboats.com/j121
$419,900 Call for next available hull
https://www.youtube.com/embed/38EV4NwETi4?rel=0 The link to the left is a time lapse video of the hull carving from a cool CNC machine.

INTERLUX MICRON - Generations of Innovation Click below for a movie
http://www.yachtpaint.com/usa/diy/micron-generations-of-innovation.aspx?utm_source=qr-code&utm_medium=press-release&utm_campaign=micron-generations
J/BOATS - The new E series from J/Boats offers the perfect blend of all-around J/Boat "Sport Cruising" performance with live-aboard cruising luxury. The E is for Evolution and Elegance in performance yacht design. Why settle for anything less than a great sailing boat that can take you where and when you want to go in comfort, style and speed? Responsive, stable and pure magic to steer, this is what sailing is all about.
J/112E - We know of no other 36 footer on the market with such a comfortable cruising layout that can sail upwind at 7+ kts and hit 12.5 kts downwind in 20 kts of breeze.
$294,950 base. The next slot availability now is July (Hull #62)
Named the "Best Performance Boat Over 30 Ft." the J112E is an impressive boat with beautiful lines from the J/Design team. It has the feeling of a 40 footer in terms of the cockpit and interior spaciousness- the sense of light inside is breathtaking. Yet, its nimbleness under sail is surprising to many. A recent test with just 100% jib in 15 kts TWS yielded an easy 7.5 kts boatspeed with hardly any heel— cocktail cruising at its best! Yet, throw in the power of the 55 ft tall rig with full mainsail deployed and the J/112E kicked up her heels and simply took off at 8.75 kts. She accelerates with alacrity and feels velvety smooth on the helm; the high aspect ratio rudder design and ultra-low friction rudder bearings provide the trademark finger-tip steering on any point of sail. See the J/112E in this Cruising World video review: http://www.cruisingworld.com/j-112e

---

Hooper's Yachts is a Selden Mast regional distributor and we supply and install all of their products, including Furlex Roller Furling, Rod Kicker Rigid Vangs, Selden mast for all sizes of boats including in mast furling mainsail systems and a host of other sailing products like spinnaker and whisker poles and retractable deck asymmetrical poles. Click HERE to see the new GX furling system for asymmetric spinnakers. Click HERE for a brief explanation from Scott Alexander via Practical Sailor. Pretty slick. Call for pricing and availability.
---
J/112E $289,900 Four new boats already sold in North America. July 2021 availability (carbon spar option: $ 22,900)
INTRODUCING FROM J/BOATS: J/122 "E" $398,600 base price Call for details and availability.
The J/122 is one of the most successful 40 footers worldwide of the past five years, compiling a record unmatched by other 40 footers- winning major events on three different continents in both double-handed and fully-crewed events. However, what truly sets the J/122 apart from other performance boats is her dual-purpose appeal as an all-around family cruiser. That attraction increases dramatically with the recent unveiling by J Composites (at the La Rochelle Show) of the J/122 "E" - a fully restyled J/122 with new cabin port layout, hull ports and beautiful interior, designed to enhance the J/122 cruising qualities while still delivering the same race-winning performance. Both the "E" and "Classic" versions of the J/122 will be offered for 2014 in the two cabin and three cabin arrangements.
The first J/122E for North America is already on order. The new owner is planning to cruise the Great Lakes as well as sail in the Chicago-Mac Race. Mid to late spring 2020 is the next availability. Contact Hooper's for more details and pricing. Next availability is November 2021
NW YACHTING MAGAZINE J/122E REVIEW:
http://www.nwyachting.com/2015/01/j-122e-new-boat-review/
---
The next slot available is #111 available in November 2021 and base price is:
$ 149,800
See our J/88 page for more information.
Watch these other J/88 videos: (Click For Video) (Click For Video)
---
---
The Wayzata Yacht Club has officially approved a J/70 one design fleet and we have fleet discounts available on orders for 3 or more boats. So, if you are interested in racing on one of the most fun sailboats ever, contact us for details.
The most exciting and fastest selling J Boat introduction since the J/24. 500 orders in just 19 months and the largest one-design fleet in her intro year at nearly every major East Coast Regatta including Key West RW, St. Pete NOOD, Charleston RW & Annapolis NOOD and 90 entries for the 2013 NA Championship in Annapolis. All ages can sail the boat (How many boats can excite juniors and young adults yet be stable enough for infants and elders?) She can be launched at a ramp and rigged without marina help.
CONTACT US AND WE WILL EMAIL YOU VERY COMPLETE INFO THAT WILL LET YOU KNOW EVERYTHING YOU EVER WANTED TO KNOW ABOUT THE J/70 AND MORE
Here's a You Tube Video on the J/70: (Click For Video)
---
---
2013 CLASS RULES FOR THE J/111 JUST RELEASED. LITTLE HAS CHANGED EXCEPT NOW THEY ARE SANCTIONED.
$287,900 base J/Composite production in full swing. Call for next hull availability. FOB Bristol RI.
To see the J/111 sailing, catch these short movies on You Tube
30 kts on Hull #3 in San Diego:
A thrilling, yet stable ride. Must see !!!
Speed Indeed !!!!

J/80 $53,900. Call for Availibility RI. J/Boats is happy to put together a J/80 Worlds special that factor in a charter fee as part of the package. Contact us if interested.
The J/80 class is growing at over 50 boats per year with hull #1500 just raced the 2013 Worlds in France (120 boat fleet). The large cockpit makes for the ideal family day sailor (5 or 6 comfortably). She's offshore capable and is currently the #1 modern training platform for most countries in Europe. Next available slot is in July 2021.
Here's a great photo depicting the speed of a J/80: (Watch YouTube Video)
Meet Hooper's:
Hooper's Yachts has been in business since late 1986 and so we are nearing our 34th year of taking care of our sailing customers with their sailing needs. We have a 5 acre boat yard which contains new and used boats for sale (so you have a lot to look at, plus we have boats for sale in many other popular sailing areas. We offer outdoor storage both winter and summer and for the DIY sailor who simply needs to build or refurbish his/her boat. We also have a complete sailboat retail store that is not a boutique, but a hardware store with items sailors need. Many items are not found in the big box stores and we can install or apply what you need or help you, the DIY person, do your own projects. We have an excellent service department that deals with virtually every system in a sailboat and we have knowledgeable answers for your questions. We also have a hydraulic swaging machine and can make up all your wire rigging needs.
WINTER STORE/BOATYARD HOURS: Tue-Fri 10-3 Saturdays by appointment and closed Sundays. We'll be happy to accommodate your needs. Just call in advance to arrange. On big snow days or bitterly cold days we most likely will not be in - call to be sure. THANKS FOR ALL OF YOUR BUSINESS. STAY SAFE.