About Us
Hooper's Yachts
is in her
35th year of business
and brings to you nearly
40 years of sailing experience
from certain members of our staff. We offer you expertise in all areas of sailing including cruising, racing and day sailing. Our staff members have cruised extensively on offshore salt water and great lakes passages, raced on more boats than we could count - both one-design and handicap club competition. We not only know how to sail, but we understand sailboat rigging, systems and maintenance.
Our service department is extensive
and often our competition, involved in sales, but not service, sends customers our way to get their boat worked on. We have outdoor and indoor boat lifts for bottom maintenance and repair, keel and rudder work or loading or offloading. Our 5 acre boatyard will accommodate the DIY boat owner, outdoor storage, service work and we have more room for displaying new and used sailboats than any of our local competition. In addition we have a very well equipped store with all the supplies you need to outfit or maintain your vessel. We stock sailboat hardware such as
HARKEN, SCHAEFER, SPINLOCK, RONSTAN, WICHARD, FORESPAR, SEA DOG,
and many more. We are an
INTERLUX YACHT PAINT CENTER,
also
PETTIT

and other brands of paints and varnishes
and a
WEST EPOXY
dealer. We also stock
SAMSON
CORDAGE
and have a

HYDRAULIC SWAGING MACHINE

for your standing rigging and lifeline needs. We stock all the cleaning supplies offered by
3M, MEGUAIRS, STARBRIGHT
and more, and we have all the maintenance material for the DIY such as sandpaper, paint supplies and fiberglass repair supplies. We stock
ANCOR
electrical fittings,
HUBBELL, FURRICON
and
MARINCO
shore power. We have anchors, dock lines, electronics, heads, hoses, clamps, stainless fastners, trailer accessories, teak cleaners, sealers, varnishes, and the list goes on.
To put it briefly, we have experience, know how, understanding, supplies, service, transportation and are recognized for quality, fairness and smiles.
AND CHECK OUT OUR ON LINE STORE, WHICH YOU CAN ACCESS FROM OUR HOME PAGE AND GET PRODUCTS SHIPPED DIRECTLY TO YOUR DOOR.
Our range, over the past few years have extended into the powerboat business on a used basis. We can list your powerboat or sailboat and sales of both have been keen. We bring experience in the power end of the spectrum as well, as some of our staff owns boats from smaller runabouts to larger cruisers.
Edson International


We have lots of experience with Edson Wheel Steering Systems and offer complete installations from former tiller systems to replacement of damaged components or upgrades to more accessories to make your sailing safer and more convenient.

Interlux Yacht Paint Center
Hooper's Yachts is an Interlux Yacht Paint Center which means we stock the majority of quality Interlux & VC System products & can help you with how to apply the best product for your particular application. In addition our service department applies the full range of Interlux products to our customer boats. Products include antifouling & finishing paints and primers, stains & varnishes, epoxy, Interprotect systems for blister repair & associated products such as thinners, solvents, reducers, polymeric compounds, flattening agents & even stir sticks

West System Epoxy


As an authorized dealer, we stock the full line of West System epoxies, fillers, fiberglass, pumps, rollers, pots, spreaders, sticks & additional accessories. Our staff understands the system & can help with your selection of the product for the right job.
Triad Trailers

Triad Trailers are normally provided under new J/Boats, but they build trailers for all kinds of boats & Hooper's Yachts is a Triad dealer. Simply call us to obtain a quote to suit your application. This J/125 picture is an extreme example of how Triad can meet just about every need. Triad uses the best in structural steel framework, the right axle & brake combination, wheels & tires, lights & know where to put the keel & hull supports for a safe ride. Their trailers come painted with a choice of standard colors (others optional).




Mast Transportation
Most masts accompany the boat when moved about from place to place, but how do you transport a mast by itself?

Call Hooper's. We have this nifty mast trailer and will haul your mast locally. For cross-country transport, contact a common carrier.

Hydraulic Swaging and Rigging
Hooper's Yachts offers on site hydraulic swaging for standing rigging such as such as shrouds, running rigging, wire halyards, lifelines as well as industrial applications such as deck railing wire. We stock all the necessary hardware for most sailboat applications and can order what we might not normally carry. We are the only local sailboat shop offering hydraulic swaging.

We also can Nicro Press oval sleeves and Handi Crimp fittings.

We also have a stock of ropes and cordage for halyards, sheets, dock and anchor lines, mooring pennants, utility line and we splice eyes, continuous furling lines, rope to anchor chain, etc.

We carry anchor chain, galvanized swivels, shackles, thimbles and anchors.
Deck Cracks & Crazing Repairs


Unsightly cracks? We have years of experience grinding out delaminated & cracked deck material & replacing core or applying the appropriate glass matrix to solidify & beautify your deck.

Keel Fairing


We are experts in all underwater bottom work & this includes preparing super-fast bottoms fpr racing sailboats. This includes underwater shapes such as keels and rudders.

Shrink Wrapping


We offer shrink wrapping for winter storage or for boat travel to keep it clean. Call us for a quote.
Used Sailboat Brokerage Listing
Want to sell your boat? Consider listing with us. We have a phenomenol success rate in used boat sales - it is a serious part of our business. We regularly list boats from MN, WI, IA, ND, SD & Ontario & we regularly sell boats nation-wide and have sold boats to Austrailia, England, Belize, Alaska and all over Canada. We have a 5-acre boat yard where we can put your boat on display, or if remotely located, we can affix one of our distinctive signs announcing that your boat is up for sale with Hooper's Yachts. Our web site is a valuable selling tool for you, plus we also use Yacht World and their associated other web sites. Call or email us for detailed info on how to list your boat. It is easy & no hassle for you. We can email you our paperwork for you to read and fill out. We have long been recognized for excellent brokerage service. Magazine editors where we and competitors advertise used boats have told us that we sell more used boats than all of the other dealers combined in our area. Our 5-acre boatyard is chuck full of used boats to see during one easy visit as well as other listings in major sailing locations in our area. We handle boats from dinghies to blue-water vessels - sailboats for beginners through those with various degrees of expertise & sailing abilities - boats for cruising, racing or both. We are sailors & understand sailboats & provide expert answers to the all sorts of questions. We also sell a variety of used powerboats from dinghies to fishing boats, pontoon boats and cruisers of all sizes. Just click on boats for sale (power or sail) on our HOME PAGE & see what we have to offer. Boat sales are incredible and good boats sell quickly. We are running out of inventory and so if you have a boat to sell, you won't be disappointed. Our long time expertise goes beyond selling your boat and processing the paperwork. We understand boat problems and can help novices learn about what is serious and what is not so and how to approach issues. We understand various designs and can explain the differences. We really know many bodies of water throughout the US and some of Canada and beyond and can be helpful in your search for marinas and the type of boat best suited for your personal needs and help you decide which boat will work for your based on the area you intend to sail. We know brokers all over the country and our travels are beneficial for knowing marinas and the people who own and work them. We also have banks and institutions who provide financing to make your purchase even easier.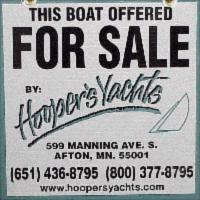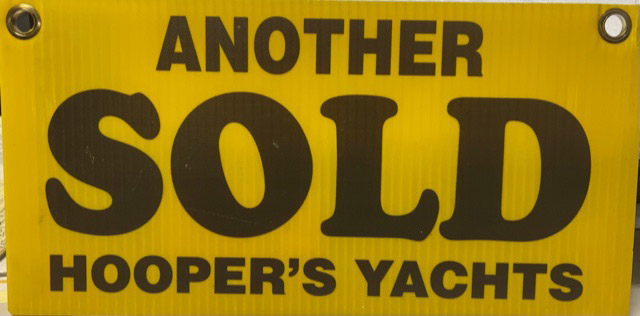 When you buy a sailboat - you buy a way of life!


That's true. Join the fraternity of sailing & there's no end to how much enjoyment you can derive. Once a sailboat owner you share the same sense of passion & adventure that has been enjoyed for centuries by famous sailors on boats of historical significance as well as the folks you met while they helped step your mast at the local ramp or the folks you met while swinging on a hook in some exotic get-a-way charter boat while on winter vacation. Buy a sailboat & you buy a new set of friends that are always there to lend a hand or advice with a smile.
| | |
| --- | --- |
| | Used Sailboat Brokerage Sales |
Staff
Bill Hooper

is the founder of Hooper's Yachts back in 1986 and is President and co-owner. Before starting the business he worked for several other dealerships cutting his teeth with service work, retail sales, boat sales and also transports boats. He's been at this game for over 45 years

Justin Farner

has come on board Hooper's Yachts as co-owner/Vice President and he brings a host of experience that is essential to us. He's involved in boat and retail store sales, service work and transportation.
| | | | |
| --- | --- | --- | --- |
| | Captain Marc Scholtes is a 100 Ton Master and is works for us in a number of ways, including boat sales in Bayfield. | | Chris Olson works in our service department and also in our retail store. |
Katelynn Farner has built and admins our on line web store and also helps in the on site retail store and yard work.

Sisters

Kate and Anneliese racing a 420.

Anneliese Farner, besides working with Katelynn also works in the store and yard. In addition she holds state titles in weight lifting and unofficially broke a National title. And she's our bouncer!!!
David Marsh


David has retired and will be missed. He was an incredibly loyal and honest employee who's work was top notch. We wish David and his wife Martha happy trails as they continue on their journey aboard their sailboat Antigone and their mobile camper.
| | |
| --- | --- |
| Brian Jepsen has retired and we wish him an enjoyable retirement. He was an officer with Hooper's for somewhere around 25 years. | |