St Croix Sailing Club

The St. Croix Sailing Club was formed to encourage and promote sailing activities for all family members. Events include racing, cruising, education and special social events. We are located on the St. Croix River, just east of the Twin Cities, with member boats at marinas and on moorings from Bayport to south of Afton.
St. Croix Sailing Club is a proud member of US Sailing!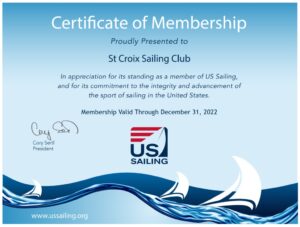 Racing
Racing events are organized to appeal to sailors of all abilities. They include several weekend and mid-week racing series, fun races, and special regattas such as the Spring Invitational; the Breaking Waves Regatta and Commodore's Cup (overnight race/cruise from Hudson to Prescott); the Carlson Classic; the Labor Day Regatta; and the Autumnal Equinox.
The Labor Day Regatta has brought in sailors from Iowa, Lake of the Woods, Lake Pepin, Lake Waconia, Lake Minnetonka, White Bear Lake, Medicine Lake, Lake Mille Lacs, Chicago, La Crosse, and Bayfield. The festivities begin on Friday night and, after two days of racing, conclude Sunday with the awards ceremony and cocktail party. Saturday's racing is often followed by dinner and live music.
Cruising
Overnight cruises take us to places like Afton State Park, Prescott, Stillwater, Bayport and Lake Pepin as well as the Apostle Islands on Lake Superior out of Bayfield WI. Often, star-rafts are formed for strong anchorages and better socializing. The star-raft provides a swimming area in the middle and people move from boat to boat, sharing horsd'oeuveres, beverages and tall tales. Meals and social functions in conjunction with cruises have included barbecues, shrimp boils, pig roasts, luaus, breakfasts of pancakes, eggs benedict, and omelet buffets, volleyball, softball, dinghy races, RC boat races and treasure hunts. Fun for the whole family!
Other social events include dock parties, picnics, chili feeds, an annual rum party, winter get-togethers, spring and fall banquets. The St. Croix Sailing Club also sponsors special events such as sailing and racing seminars, both on and off the water.