J70
THE J/70 Click here for more info
J/BOAT'S FIRST RAMP-LAUNCHABLE KEELBOAT DESIGN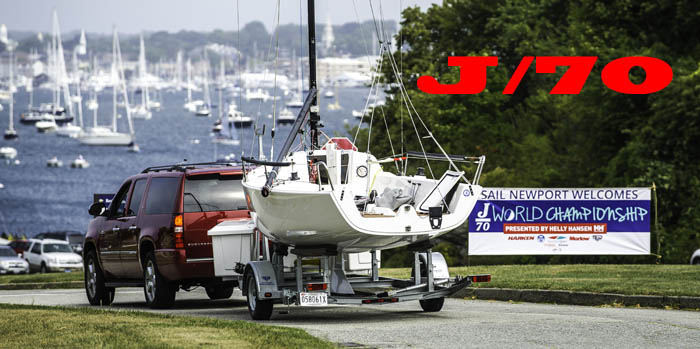 This new 22.75 foot speedster is designed to fulfill the growing need for an easy-to-tow, high performance, one-design that is exciting to sail, yet stable enough for the family. She is built to last under the watchful eye of J/Boats and the Rhode Island manufacturer CCF Composites. Class development is accelerating dramatically around the world. In the U.S. alone, there are over a dozen J/70 fleets that have formed already with nearly twice that amount in the formative process across America.
In 2012 SAIL Magazine's panel of sailing experts reviewed a large cross-section of "performance" sailboats in the 30-foot and under size range. After a thorough evaluation of all the boats, the SAIL Best Boat expert panel chose the J/70 as the "Best Boat" in the "Performance Category". The J/70 also is Sailing World's Boat of the Year Winner and has now reached ISAF (International Sailing Federation) status.
Here are the included features:
Large comfortable cockpit with open transom (Harken winches & deck hardware & 11" SS lifelines w/comfort pads)
Deck stepped carbon mast with single spreaders and carbon boom.
3 Sail inventory including a masthead asymmetrical spinnaker (below-deck jib furling)
Vertical lifting keel (4.75' with kelp cutter that reaches down about 80%) and it works!!
Fixed motor mount (accommodates short shaft outboard)
Cabin for storage and personal privacy (V-berth)
Trailerability with easy ramp launching and retrieving
2022 Pricing is currently at $49,900 for the boat and $4,995 for a Triad trailer. Sails are additional (see more information later) plus a $100 factory set up fee prior to shipping. Prices are subject to change.
Next available Hull is October of 2022.
To order a boat, a modest reservation deposit gets a hull assigned to you with a molding deposit due 3 weeks prior to molding. The balance is due upon completion. There are only two production line options (bow & stern hull guards $350 total), but after- market options are available through HOOPER'S which include cushions, covers or trailer modifications (detailed here later). At least 4 J/70's without trailers can be shipped on one truckload. Three boats with trailers can ship on one truck load.
Any individual or group interested in ordering one or more boats should please contact Hooper's Yachts. Special pricing may be available.
Performance and Sails: In mid-April, 2012 on the water sail sessions were completed and it is no surprise that the J/70 can fly. The top speed realized was 16.2 kts with another boat hitting 15.8 kts. The most talked about characteristics was how quickly the J/70 accelerated both upwind and downwind. It was reported that she sails upwind, steering and tracking like a boat several feet longer - very easily. Stability was also realized as it was no surprise that the J/70 handled conditions very well. In Europe the spectacular wipe outs were from the European competition and the J/70 easily handled them all in the medium to heavy air. 'Blew them away. In the 2013 French off shore race, the J/70 hit 20 knots.
In 2013 they set the J/70 NA Championship at a 90-boat entry, but the quota was hit in only 28 hours. So it was raised to 120 boats for the 2014 NA's and that sold out in hours too. The J/70 phenomenon is crazy. Over 600 hulls sold in just over 2 years after first launch. In today's economy, that's remarkable. Some say it is not high performance enough. It is clearly fast, but not so amped-up that only really good or young sailors can manage it. We have heard that it is too easy to sail – too simple, but that translates into more participation – a design that is more inclusive. You can get into the sport boat game and develop as you go. She's fast, but not intimidating, fun for various ages and abilities, affordable and offers good racing or day sailing everywhere you go.
The one-designed dimensions and specifications for the 3-sail class inventory have been finalized. Both North Sails and Quantum Sails helped with the process with collective input. The class rules are now available for owners. Anyone interested in receiving more information on sails can request them from us at any time.
2021: Quantum Class Sail prices are $7,000 and North Sails is $7,599 and Doyle Sails is $7,300. (Royalty and options might not be incl) (All prices subject to change). For fleet or institutional boat orders, special reduced pricing might be offered. Sales tax and freight are not included. Sails should be ordered at the time the boat is ordered and a 50% deposit will be requested at that time. The assigned hull number will be sent to the sail maker of your choice and spinnaker colors will be selected. Clew blocks may be additional. The balance will be due when the sails are completed.
FAQ:
What is the anticipated crew weight limit? One-design rules say that the crew should consist of 3 or 4 people.
Any class limits expected on hiking? The J/70 has 11" high, stainless safety lines with comfort pads around the cockpit which are designed for comfortable seating, facing either inboard or outboard. This suits the boat well for club team-racing/match-racing events which tend to prefer inboard seating vs. one-design/recreational sailing where both are popular. As there is no bow pulpit, class rules require crew on deck to stay aft of the mast except for temporary sail handling needs which should be minimal with a roller furling headsail and retractable sprit for the asymmetrical which can be launched from the cockpit. Not more than two crew may have their legs outboard of the sheerline. When tacking or gybing, crew shall not hang, push or pull on the shrouds, mast, cockpit safety lines, stanchions or any other item to promote the maneuver. No roll tacking.
What is the expected PHRF Rating? It's too early to tell until the boat sails head to head against some PHRF benchmark boats in various conditions – something that is underway now. The one-design sail plan is nicely powered up, so there is no reason to consider non-class sails, which also helps keep your cost down.
After market Options:
Several suppliers have stepped forward with offers to provide aftermarket accessories such as canvas products, cushions and outboards. J/Boats is encouraging this open market approach as apposed to exclusivity which tends to push pricing up. So, they are dealing with reputable suppliers that dealers can work with. But, these options are not essential. Here are some of the many items that will be available through Hooper's Yachts:
V-Berth Cushions
Line Bags
Mainsail Covers
Furling Jib Luff Covers
Electronics, compass, Windex, etc.
Outboard Motor (Torqueedo Electric 1003 $1,999) We are also Nissan/Tohatsu dealers
Bottom Paint
Ground tackle, fenders, dock lines, etc.
Running & Cabin lights (portable or permanent)
There is a complete compliment of covers available for the J/70 for practically every need including full trailering covers down to blade covers, etc. If interested, we will happily email you the price sheet.
J/70 Triad Trailer included gear
Tentative trailer ratings:
Gross Vehicle Weight rating: 2,990 pounds
Trailer weight: 900 pounds
Approximate trailer carrying capacity: 2,650 pounds
Suspension: Single 3,500 pound capacity Tie Down Engineering Eliminator Torsions bar axle equipped
with Tie Down Engineering Super Lube® bearing system as well as reversible spindles.
Brakes: The stock package Triad Trailer will not be equipped with brakes. Hydraulic surge disc brakes
will be offered as an option factory direct from Triad Trailers LLC.
Important Note: The following states will require brakes to be installed on the J/70 Triad Trailer:
California, Georgia, Idaho, Mississippi, Nevada, Ohio, Tennessee and Utah
Tires: Carrier Star ST205/75D14 load range C tire mounted on 5 hole Galvanized Spoke wheel. Carrying
capacity for each tire and wheel assembly is 1,760 pounds. Heavy duty galvanized steel fenders and high
impact fender guards will protect the tires.
Trailer finish: Hot dip galvanized after the trailer has been completely welded
Front trailer jack: The trailer will come equipped with a 1,000 pound capacity marine jack which adjusts
in height by turning a crank handle. The jack swivels to a horizontal position for travel.
Forward and rear hull support bunks: 2 inch x 6 inch pressure treated board covered with Tie Down
Engineering Bunk Slicks. Bunk slicks provided very low friction for ramp launching/retrieving, assist in
centering the boat on the trailer and do not retain water preventing hull blistering.
Front under centerline hull support: A 12 inch wide non marring amber roller will be located on
centerline of the trailer approximately 3 feet – 3 inches aft of the stem. The roller will keep the boat
elevated during launching and retrieval.
Keel support: The trailer will come equipped with a 12 inch wide keel support which will be covered
with marine grade carpet. The keel support will ride roughly 11 inches from the road surface.
Bow stop: The J/70 Triad Trailer will come equipped with a bow stop. Mounted to the bow stop will be
a 1,300 pound capacity single speed winch equipped with a nylon winch strap with snap hook. The
FINANCING:
We have a couple of different banks to draw from, but basic financing info is simple and it takes only a minimum $5,000 down payment (or 10%) to get into a J/70 and over 15 years the average rate range is varies depending on the credit rating of the boat buyer. Contact us for the monthly payment. With 15% down the same rates apply but payments are lower. The process for applying for a loan is simple. Call for details and an application.
COMMENTS FROM J/70 SAILORS:
My impressions, as crew, of the J70 are positive. Like most J boats she is well mannered and comfortable. She does not appear to have any bad habits or quirks. Overall it was a really fun weekend with two great days on the water. I got the impression everyone involved was psyched to be there and looking forward to more racing on the J/70. There was plenty of talk of races in FL this winter and growing of fleets in the Great Lakes, the Northeast and the Mid-Atlantic in the spring. –Greg Lanese after sailing the Fall Brawl First J/70 OD completion in Annapolis in heavy winds
The boat definitely does not feel and sail like a sport boat. It sails like a keel boat and that is good. - Rich Stearns
The comment after the first J/70 sail from one of our local buyers: " the boat is a Ferrari, just wonderful. Smooth, fast, stiff".
All J/70 Events can be found here: http://www.j70class.com/index.php/event-calendar2/
ALL PRICES AND SPECIFICATIONS ARE SUBJECT TO CHANGE