J45
The J/45 winds two boat of the year awards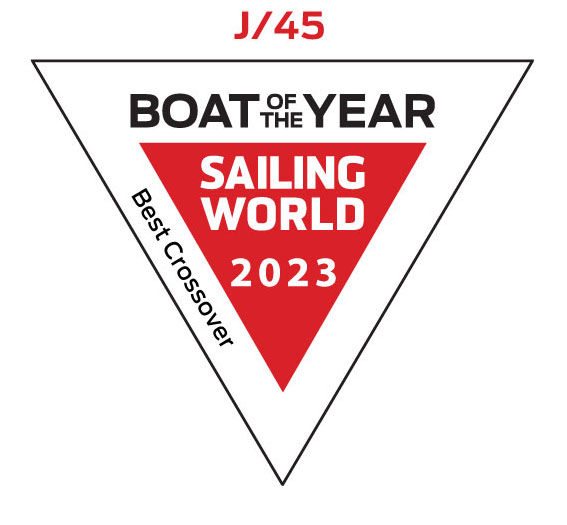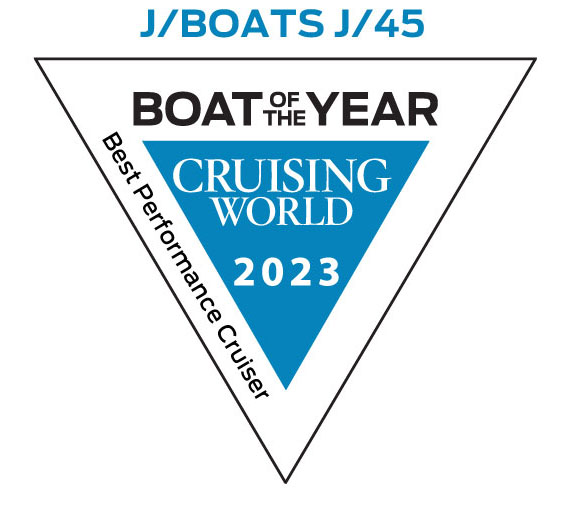 2023 Boat of the Year best PERFORMANCE CRUISER
2023 Boat of the Year BEST CROSSOVER
A combination not a compromise
$749,950 Hull #7 will be on display at the US Sailboat Show in Annapolis MD Oct 12-15. Next hull availability is April 2024 (Images by Onne VanderWal)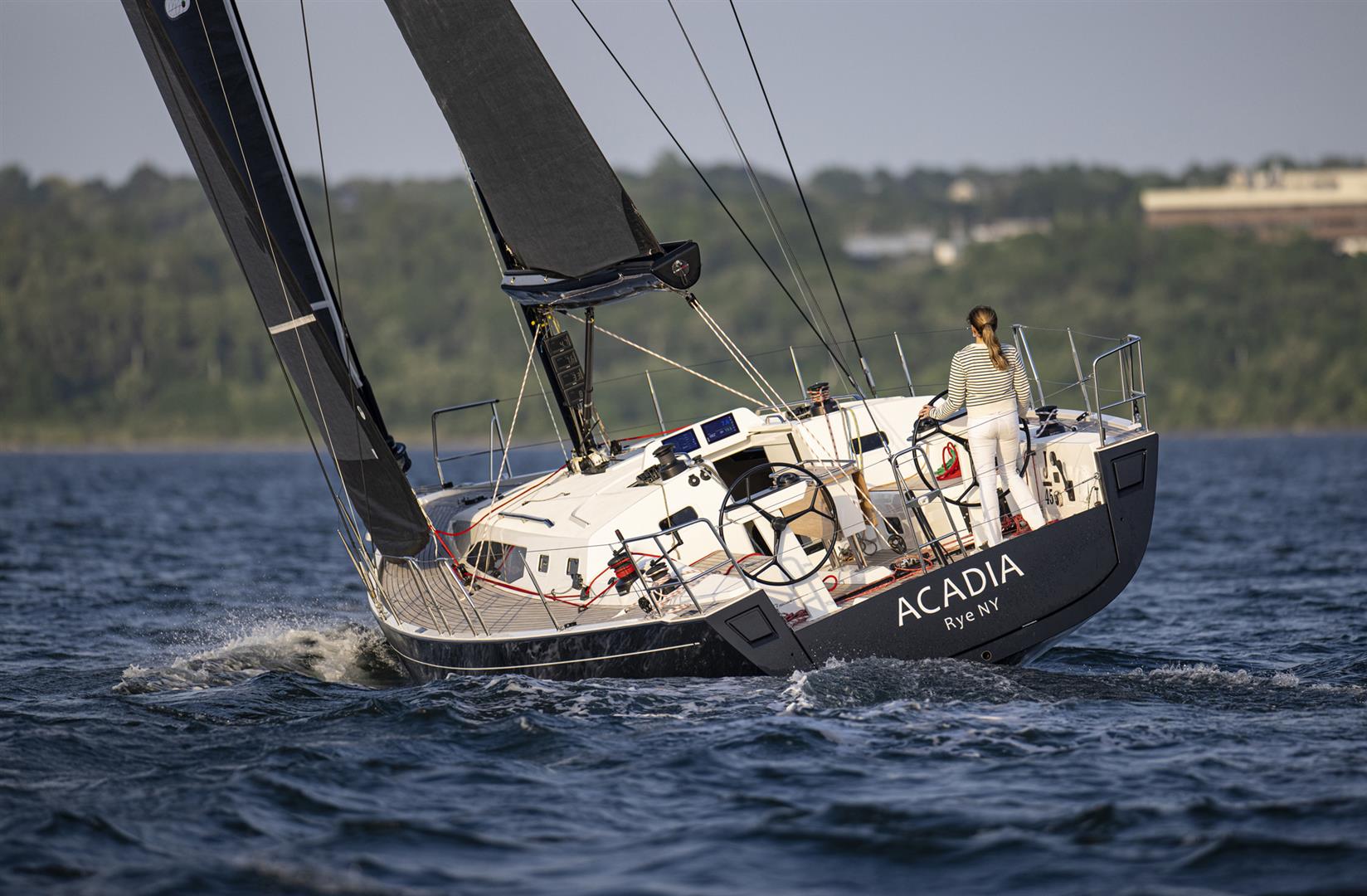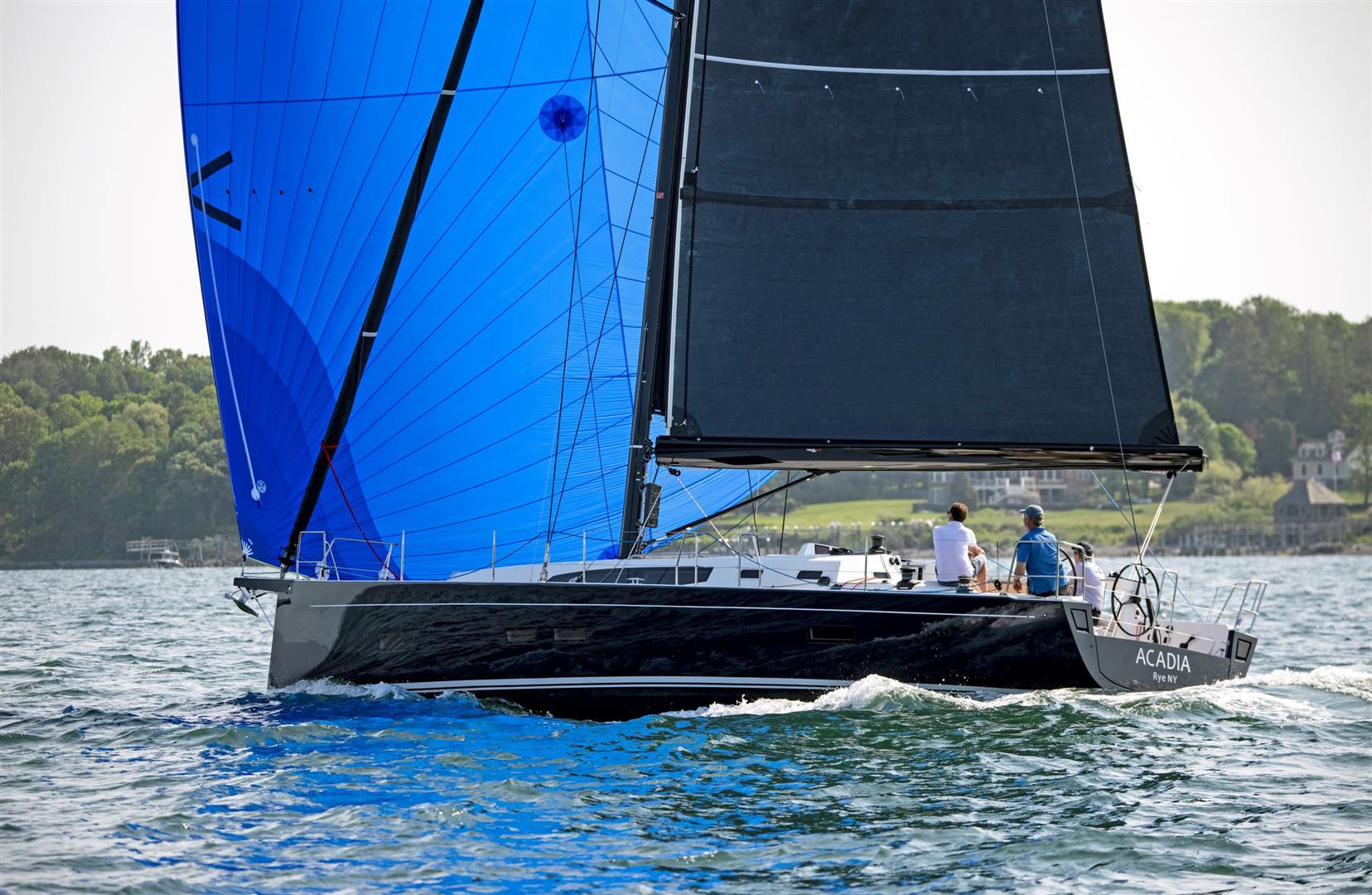 It has been a long time since the hallowed Johnstone family has seen fit to throw a larger performance cruising boat into the market. They've done very well in recent years titillating us with compact, competitive one-design sport boats, but let's face it—J/Boat aficionados have been holding their breath, waiting to see if there would ever be a larger J to sail (and maybe even cruise) about in. The new J/45, designed by Alan Johnstone and built by J/Composites in France, does not disappoint. It does a very fine job of splitting the difference between contemporary design idioms and the J/Boats of yore.
Yes, this J is a bit wider than larger Js in the past, but max beam is not carried aft, and there's a fine sensuous taper in the transom that will warm the hearts of traditionalists. Twin wheels control one rudder—deep, grippy, and highly efficient. There is also a fine integral bowsprit for flying the big sails. The result is a boat that is not optimized for just driving hard off the wind, in the modern style, but is more reliably a traditional all-rounder—more slippery in light conditions, heeling a bit more in heavy conditions, but always quick, easy to drive, and sure-footed.
Construction, of course, is rock solid, with a fully resin-infused foam-cored hull and deck, courtesy of the longest-standing SCRIMP infusion system. The interior treatment, composed by the revered French designer Isabelle Racoupeau, is a breakthrough for J/Boats. It is decidedly contemporary, understated, very elegant, but wrapped around a purely functional layout. We were all greatly relieved to see a boat like this on the water again. - Sail Magazine Review for the top 10 designs for 2023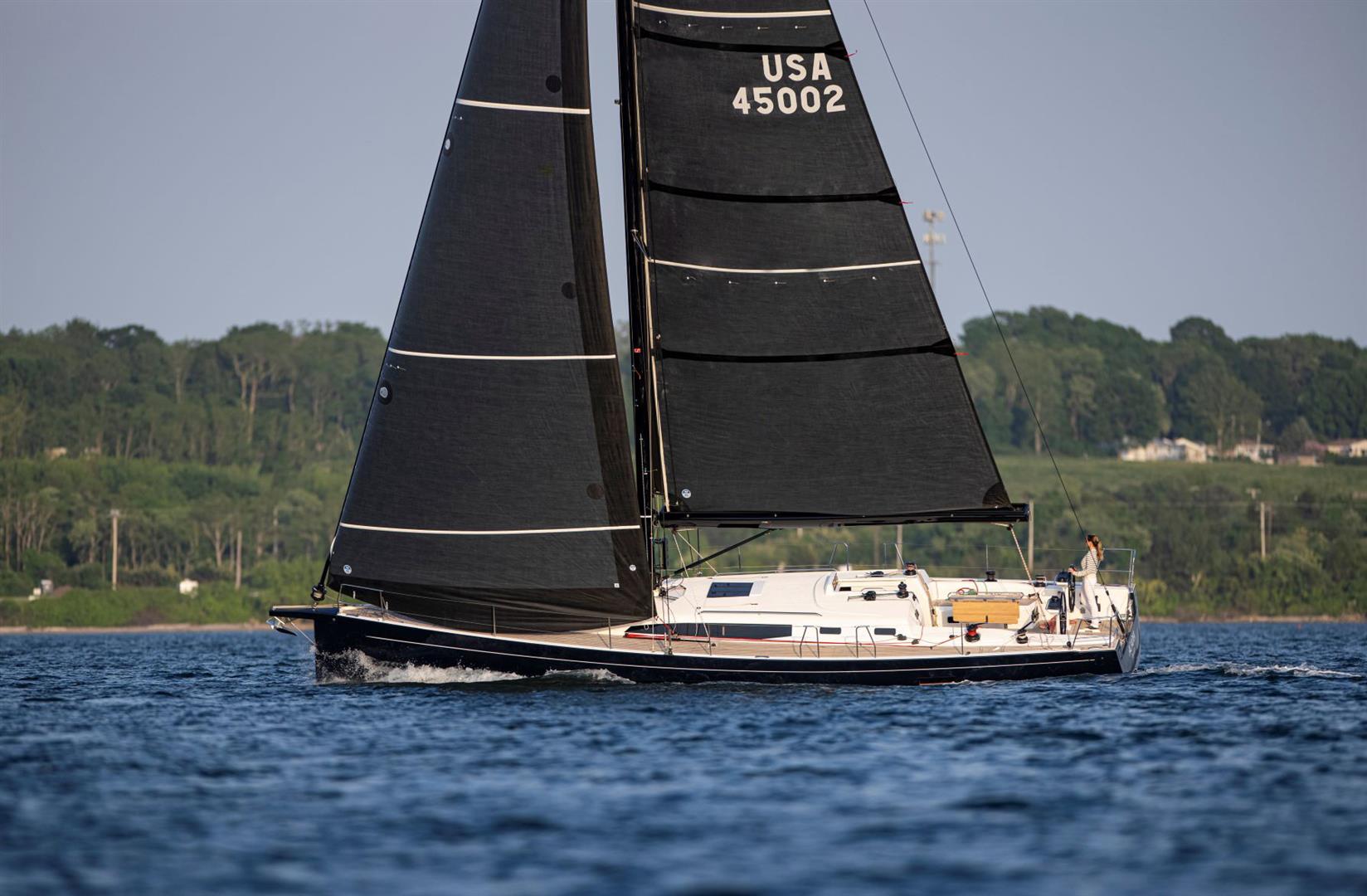 Hitting the sweet spot for an ultimate cruiser racer is not easily achieved. To design and build the optimum combination of performance and comfort, requires the highest level of experience and technical ability. The J/45 is part of the Elegance range built by J-Composites, France and is the result of three years collaboration with J/Boats Inc. in Rhode Island USA.
The J/45 is designed for high performance sailing at any wind angle. However, where it differs from most of the J/Boat range, is the interior is designed and built for living aboard in comfort. J/Composites' Fred Bouvier explains more about the new J/45, just as Hull #1 came out of the mold at their facility in Les Sables-d'Olonne, France.
"The first J/45 owner will be from France and the plan is to launch in June this year. We will have some sea trials in the Atlantic," commented Fred Bouvier. "The J/45 is the perfect size to combine the interior volume required of an ocean-going cruising boat, with the advanced composite construction and hull shape of a performance race boat."
For all J/Boats there is a will to keep the DNA of the brand in every model: sleek lines and a practical purpose for sailing. There is a wish to design J/Boats with moderate freeboard and not too much height in the coach roof. All of this needs to be combined with an interior that has good headroom, so every centimetre counts.
One example of J-Composites collaboration with J/Boats for the J/45, was to provide a shower in the second head of the aft cabin. Together, the design/ engineering team made as many as 15 tiny changes to the design of the coach roof to allow this feature to be possible.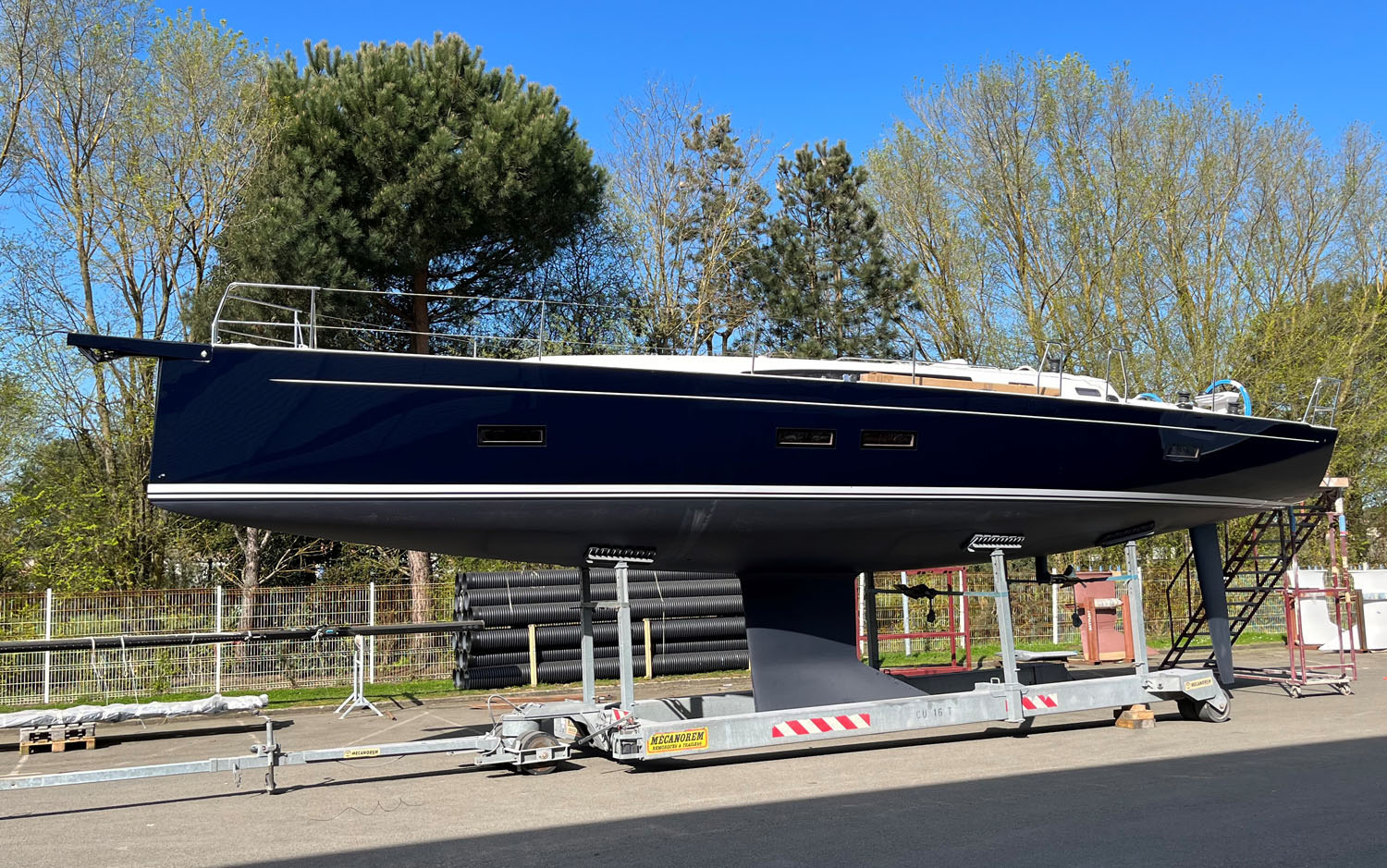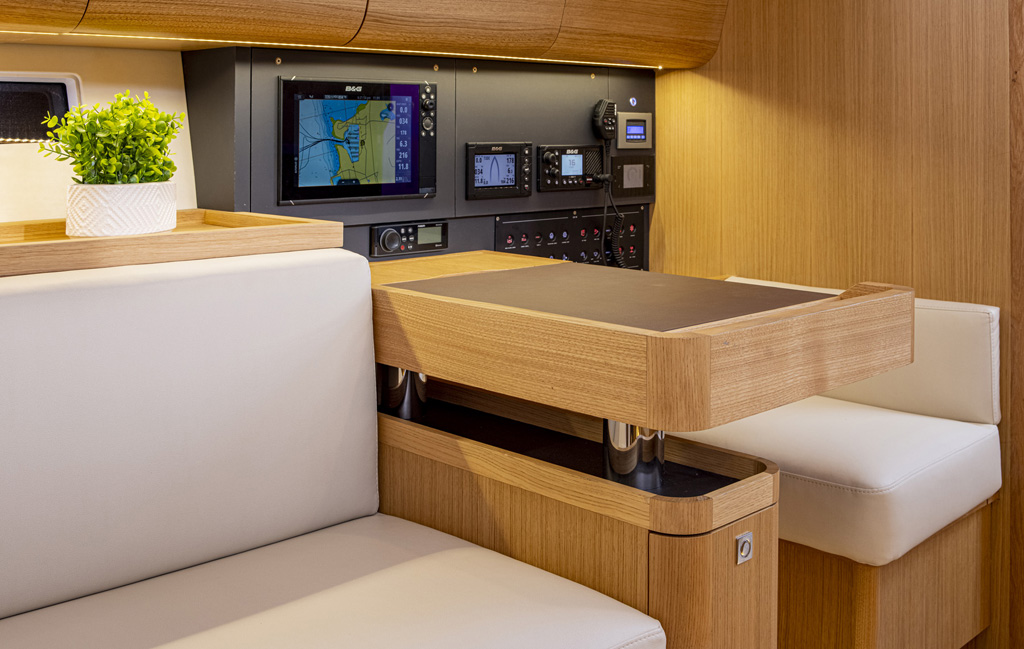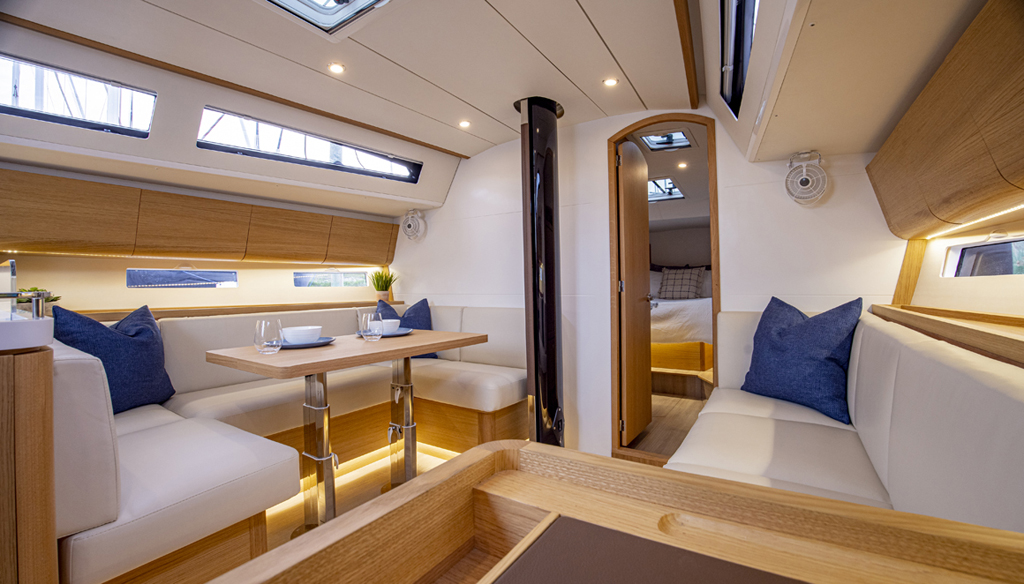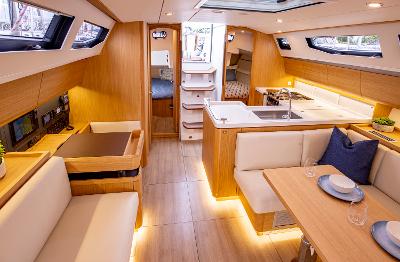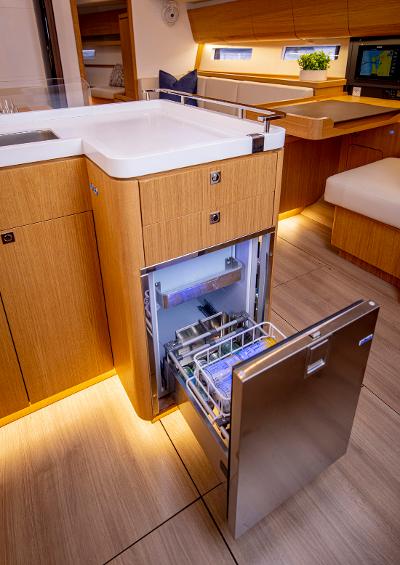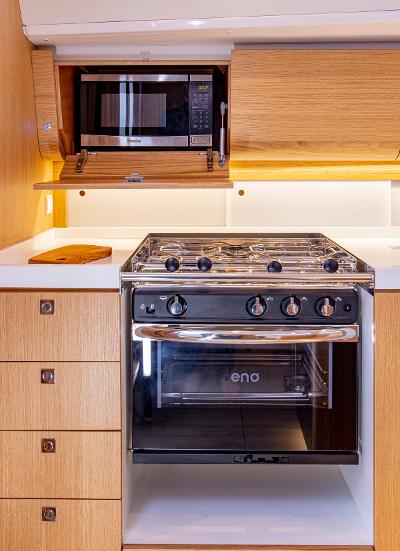 Hull #2 above, is now in the US. ACADIA is shown with the short carbon bow sprit which doubles as an anchor roller and Code sail tack point.
Working fully in partnership with J/Boats, J/Composites can embrace both the DNA of J/Boats and to create an interior that is really exceptional. The accommodation is like no other J/Boat before it, both in terms of the facilities and the beautiful finishing. It is a cruiser-racer, but the J/45 is not a compromise, it's a combination. Visit J/Boats website for more details on the J/45