J121
J/121 click here for more info.
Pronounced "One-two-one"
$419,900 Production not currently scheduled. Call for info if interested.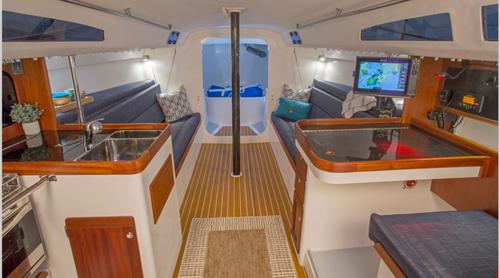 The new J/121 is a 40' offshore speedster that can be day raced or distance sailed by just 5 or fewer crew…. the best short-handed J ever…. capable of winning on any race track while also excelling as the family weekender. Here's a boat, class and program that redefines sailboat racing as a recreation and shared adventure with friends, reducing the focus on specialization and athletic W/L racing. The J/121 fulfills the growing need to simplify life and reconnect with those you really want to sail with on a boat that's pure magic to sail. Creating the best shorthanded J ever starts with a hull shape that excels on all points of sail, particularly reaching. Most distance race classics have a beat/reach/run ratio around 15%/60%/25%. Straight-line speed is the name of the game and is achieved on the J/121 by having a low drag, efficient hull with high form stability and exceptional balance. Add to this a highly engineered carbon rig package, an L-shaped low VCG keel, infused composite construction, and a waterballast assist system that adds nearly 400 kilos (4 big guys) of crew weight to the rail and you have the J/121.