Furlex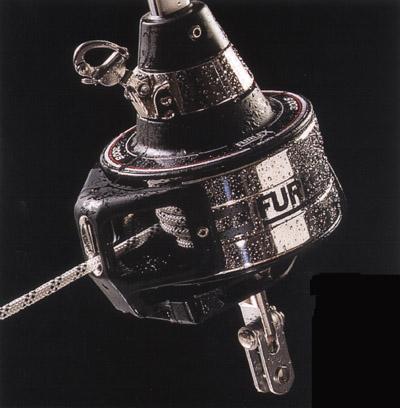 Carefree sailing is the goal of the Furlex headsail furling system. Here's a video showing the outstanding features of a Furlex: https://www.youtube.com/watch?v=fdGoaQw9XIE
We feel it is an extraordinary product due to excellent engineering ensuring that it is a product that is easy to use and a product that you can rely on.
Furlexes come in a number of sizes to fit various size vessels. To determine the right unit for your boat, we ask that you contact our sales staff with the following information: Boat type, displacement, draft, beam, ballast, forestay length, forestay diameter and pin sizes. From this information we will determine a righting moment and can then choose the unit best suited for your boat.
The Furlex comes as a kit with a complete set of instructions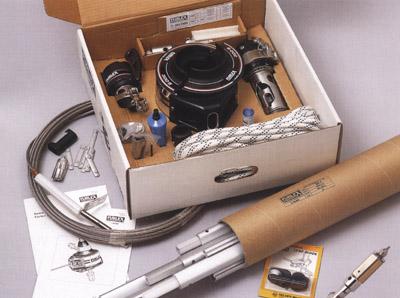 so that the boat owner, should he/she choose, can put the unit together. Or, we offer installation.
The kit is very complete in that not only do you get the basic furling system, but you also get a new forestay. This assures quality control over all the components of the system. You will not be putting on a new furler on an old forestay! In addtion the kit contains the halyard retainers, control line and blocks to lead the line to your cockpit. Often with competing brands these items are sold separately as necessary, but optional - so consider this in your price comparisons. The only extra hardware you might need is to match up the furler with the many various mastheads and stemhead fittings that vary from manufacturer to manufacturer. This must be considered with whatever unit you choose. As an example, Isomat Spars use their own unique stem-ball fitting aloft. Furlex has the hardward needed to complete the job. While not necessary, Furlex also offers an optional fully integral rigging screw for fast and easy forestay adjustment without affecting the uniform profile of the extrusion or the drum height above the deck. Note: The Furlex 100S (smaller boats) has no internal rigging screw, but an external rigging screw for below-drum mounting is available as an option. It is very important to first measure your exact pin to pin measurement when your mast is up and tuned. Your furler can be built to that exact length and once up, adjustment is usually not necessary. All Furlexes can be shipped UPS for convenience as well as low freight charges.
The Furlex system has a number of features that make her outstanding and unigue as a unit.
Appearance - her design is impressive & uses aluminum, black reinforced polyamide and stainless steel. It adds a touch of style to your boat. Not only pleasing to the eye, but the Furlex is also very durable.
Load distributor - used in the halyard swivel, this unique design reduces rolling resistance, friction and bearing loads. The loads are distributed across the ball races as the halyard load changes position. This solution improves furling and reefing and also increases the service life of the swivel. The basic design of the load distributor remains unchanged and unchallenged since it was first patended.
Centered and insulated forestay - there are insulated joining sleeves that extend along the entire length of the forestay - not just where the extrusions link as on many competing brands. This makes furling easier, reduces wear and cuts the risk of corrosion between the aluminum and stainless.
Free-turn tack swivel - combined with the uniform profile of the forestay extrusion, they assure a perfectly furled sail and effective performance even when reefed.
Unique line guide system - provides a fair lead to and from the drum for the furling line.
Built in pre-feeder - which is also retractable so it is out of the way when not in use (not flopping around as you furl).
High grade of stainless - (SS2343) the highest grade! This provides improved durability and service life. Selected components in composite - for the optimum strength to weight ratio.
Split drum - for those who race and have racing sails with max luff hoist, you can quickly remove the drum, by pass the swivel and use the twin-grooved extrusion to contain luff tape and facilitate quick headsail changes.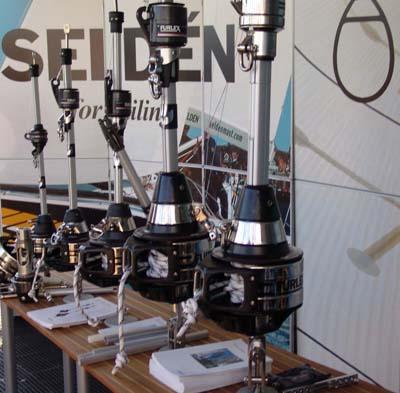 Here's the line up of Furlex Jib Furling Systems available from Hooper's Yachts and built by Selden Mast in Charleston, SC (as well as in Sweden). Not pictured are the hydraulic units available for very large sailing yachts.
This photo was taken at the 2004 Annapolis US Sailboat Show Selden booth.
Below are some unique applications for Furlex systems. Last winter while in Nassau, I took these photos of a Viking tourist vessel below one of the bridges to Paradise Island. Two Furlexes were used to furl the deck awning.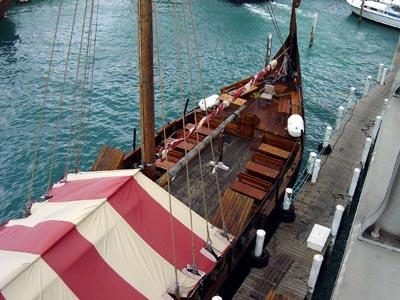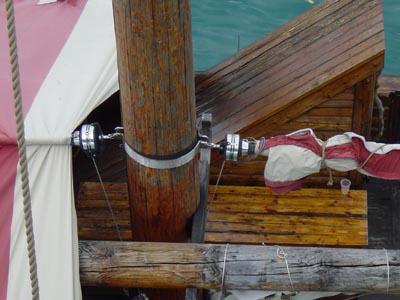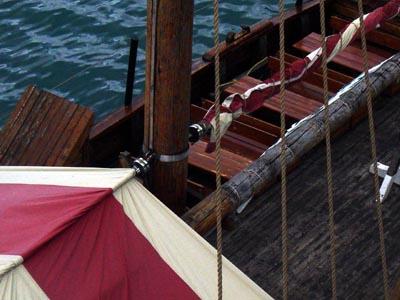 (Photos by Bill Hooper)