Tohatsu Outboards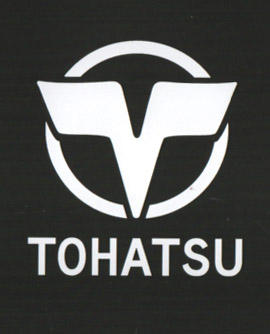 Because of COVID, outboard motors (of any brand) have been difficult to buy...read on:
When the pandemic first came upon the scene, manufacturers shut down to protect their employees - hence production ceased. Outboards became a back order item and like boats, everyone wanted outboards, but dealers couldn't get their hands on them to sell to their customers. Now that things have loosened up some, outboards are beginning to feed into the pipeline and we, like all dealers, are trying to get our hands on them with varying degrees of success. The demand for outboards remains the same and we are starting to fill orders. Those who wanted their outboard before spring launch placed their order with a deposit and now we are starting to get those orders filled and delivered as well as some outboards for stock.
Right now we are taking orders and in most cases we have been able to get the outboards in a relatively short period of time and slowly are getting some into stock. But our first priority is to fill orders for customers who know what they want and are putting in their order. In some cases, depending on the outboard, we can get them within a week and in some cases, they might be on back order, but so far, the fill date isn't that far out. But, you have to make up your mind.
Remember, dealers are ordering up stock, but the customer who commits to an outboard gets priority over a dealer who just wants to fill up their inventory. That is a good thing for our customers. The quickest way is to order up the outboard you want now and get it as soon as it becomes available. If you wait, your order will just be further down the line and you will be waiting longer for delivery. That's simply the nature of the beast.
TOHATSU makes over 85 different outboard variations from 2.5 HP to 250 HP, from 15" to 25" shafts, in Aqua Marine Blue or Beluga White, 4 stroke, jet and propane - depending on the HP.
We cannot list them all here, but we can discuss the best outboard for your purpose, including rigging kits and accessories.
WE ALSO SELL FACTORY TOHATSU/NISSAN OUTBOARD PARTS FOR ALL MODELS
TRY LPG 5 HP & 5 HP SAIL PRO MODELS
5 HP LPG NOW IN STOCK!!!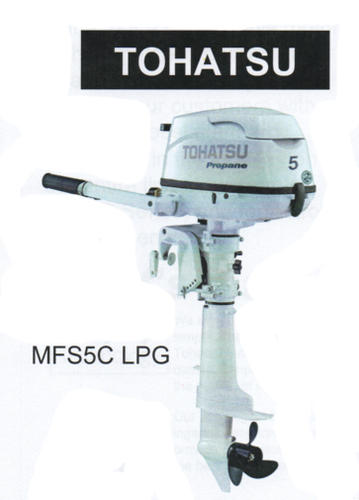 This is Tohatsu's LPG model which has proven to have more power throughout the RPM range, better fuel efficiency, 30% cleaner emissions and quieter with sacrifice to performance than the other China-built LPG outboard sold at the big box stores. And she comes with a 5 year warranty and offers more configurations (standard shaft length, Long Shaft and Ultra Long Shaft for sailboat use (Sail Pro Models). Sail Pro models are equipped with built -in 5 amp/12v charging system, high thrust sail drive prop & charging cable & long or extra long shafts. Unlike the other brands the MFS5C also comes with a safety fuel shut off valve which automatically shuts off the fuel supply to the engine when the outboard stops. Trouble free starting is offered without the worry of clogged fuel systems.
TRY 40 HP/35 HP/25 HP JET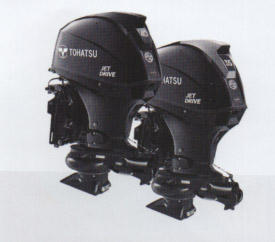 Ideal for shallow and rugged waterways. These lightweight and powerful outboards are based off the popular MFS 60.5040 power plant, maintaining the same proven & lightweight designs. They have outstanding fuel economy in its class. Lightest weight in its class.

New Product Information: BFT150D
Available June 2022

Call for pricing and availability

Summary of Characteristics

New top cowl design with elegant and powerful shape
Improved serviceability significantly reducing the maintenance time
Repositioned anodes and a new bolt coating improves the corrosion resistance
New top cowl latch and sealing system to resist the harsh outboard environment
Standardized rigging components for all BFT models
Easy maintenance - BFT150D has several serviceability improvements, such as more space for periodic maintenance, providing easier access to water/fuel separator, high pressure fuel filter and PTT replacement
Variaable Valve Timing and Lift Control technology provides smoother acceleration and power
Maximum acceleration system improves acceleration at low speeds
Superior Battery Charging Performance - best in class charging capacity of 55 amps total, 40 amps charging
Weight Long (20"): 487 lbs X-long (25"): 494 lbs
The most important reason to buy an outboard is dependability and no one combines technology and dependability like Tohatsu Marine! Nissan is no longer. It's all Tohatsu now.
Hooper's Yachts is proud to be a Tohatsu dealer. We can

order in most other larger Tohatsu outboards, but we stock outboards that are perfect for use on sailboats and dinghies. Tohatsu has proven to be the best combination of technology and dependability and here are some reasons why:
- Every Tohatsu outboard is tank tested before it leaves the factory. Not spot checked, but water tank tested.
- For many years Tohatsu Marine carbureted 2-stroke outboards have been hailed as the most dependable outboards by experts - from marine editors highly respected for their knowledge of the entire industry to experienced mechanics who work on multiple brands.
- No technology is incorporated and put on the market until they are convinced that it is ready to deliver the same dependability for which Tohatsu Marine is famous.
TOHATSU 2-STROKE OUTBOARDS
Tohatsu no longer makes 2-stroke engines. But call, as sometimes we have used ones in stock.
We have told you that unmatched dependability has always been associated with Tohatsu Marine and their 4-strokes are no exception. A 4-stroke provides extraordinary fuel economy with no loss to power. A 4-stroke is also EPA friendly and Tohatsu outboards meet 2006 EPA Standards.
Standard 4-stroke features include:
- Through-the-prop exhaust for a quiet ride.
- Thermostatically controlled cooling system for consistent engine temperature.
- Start-in-gear protection.
- Advanced Cross Flow Induction for smooth operation.
- CD ignition system (digital on 18 & 9.9) for quicker starts.
- Compression release for ease of manual starting.
- Stainless steel water pump housing for outstanding durability
- High-grade marine aluminum alloy that provides the ultimate protection against corrosion.
- Zinc coating on internal water passages for superior corrosion resistance.
- Steering friction knob adjustment to help reduce steering torque on tiller models.
- Shallow water drive with 6 different positions.
- Safety lanyard cut off switch (an important safety feature found on all Nissan outboards).
- Automatic choke for easy starts*
- Over-rev limiter.
- Oil pressure indicator.
- Front-mounted gearshift*
- Larger capacity oil reservoir for optimum lubrication*.
- Canister style oil filter for easy maintenance*.
- External 3.1 U.S. gal (12 liter) fuel tank. Includes built-in fuel connector for use with external fuel tank (primer bulb assembly and external fuel tank optional).
- Remote control box**.
- Aluminum propeller.
- Meets EPA/CARB standards.
- Nissan's 3-year limited 4 stroke warranty.
* 9.9, 18 HP only ** Remote control models
NISSAN/TOHATSU PARTS: Hooper's Yachts is your supplier for parts. We stock the fast moving/popular parts, as well as 2 and 4-stroke outboard oil and lubricants, oil filters, fuel lines, connectors, filters and tanks, and water pump impellers and it only takes a few days to order in parts we normally do not stock. For a marginal additional fee, we can have your parts drop-shipped to your doorway right from our supplier to save even more time.