Race Week 2010 by Nautica
HOOPER'S YACHTS GOES TO KEY WEST RACE WEEK (presented by Nautica).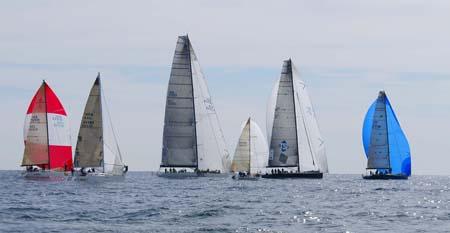 To the left is the start of the Ft. Lauderdale to Key West Offshore Race which started on January 13th. It was a cold, twenty some hour race which started with light to moderate winds which built as the night progressed. We were a part of the team on Island Flyer, owned by Denny Manrique and skippered by Mo Regnier. We took 2nd place in class and 2nd place over all.
For me, it started at Savannah, GA when we began the delivery to Ft. Lauderdale. Historic cold weather encompassed the entire nation including Florida. Key West was warm and sunny. Brian Jepsen of Hooper's joined the crew for Race Week. -B. Hooper (upper right corner of group)
Below is the Ft. Lauderdale to Key West Offshore crew of Island Flyer in Key West. Key West Race Week started on Monday, January 18th. We didn't do so well at Key West in the light to moderate winds. Ended up around 6th or 7th, but the hot weather and festivities were welcomed.